Home

Location

Apartments & Prices

Contacts

Reviews

Azores

Activities
G

et your holiday trip off to the best start with an airport transfer from Azores4Travel.
We want you to have a smooth journey to your destination and an easy trip back to the airport. We pride ourselves on offering excellent customer service.
Holidays, the best time of the year! After booking and planning everything you finally arrive to your destination. While you are waiting for your luggage, you realize: there is nobody waiting for me! How do I get to the Hotel from here?
If you don't want to worry about this detail at the airport, you can simply book your personal transfer with us before even leaving your home.
We will be at the arrival lounge waiting for you and will drive you directly to your hotel. The transfers for your return flight are the same price and you will be dropped at the airport with time enough to check-in for your flight.
Book your personal Airport-Transfer with us. You just need to give us your flight details and according to your personal requirements, our comfortable van will be ready and waiting for you while you collect your luggage.
Transfers from Airport to Hotels and return by Azores4travel
GREAT VALUE Low, low prices without sacrificing great service.
The following prices per vehicle each way
LOCATION
Airport – Hotels in Ponta Delgada 10€
Airport – Hotels in Capelas 20€
Airport – Hotels in Lagoa 20€
Airport – Hotels in Caloura 20€
Airport – Hotels in Ribeira Grande 25€
Airport – Hotels Bahia Palace 25€
Airport – Hotels in Vila Franca do Campo 30€
Airport – Hotels in Mosteiros 30€
Airport – Hotels in Furnas 45€
Airport – Hotels in Povoação 50€
Airport – Hotels in Vila do Nordeste 55€
For other locations please contact us for rates
Easy online booking for your arrival and departure Ponta Delgada transfers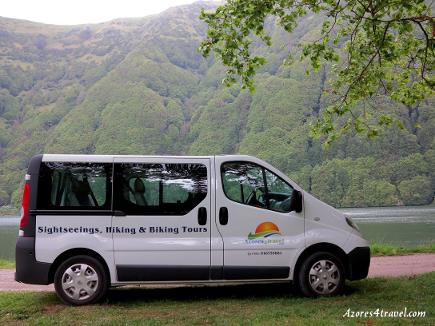 Quality & reliable Ponta Delgada transfer service
- Door-to-door itinerary - Ponta Delgada Airport transfer with no stops.
- Not a shuttle Bus - private service for your party only
- Suitable for Ponta Delgada and Furnas golf transfers
- Professional English speaking drivers
- No risk if you change plans and no cancellation fees
- Transportation services available 24 hours, 7 days a week
- Option to pay online via PayPal or later to the driver. No extra charge for online payments
- Ready for special luggage requirements
Ponta Delgada, Gateway To The Azores Ponta Delgada International Airport, known as the Joao Paulo II Airport, in honor of Pope John Paul II, who visited the city during his papacy, is the primary airport serving the Azores Islands. The international airport code for the Joao Paulo II Airport is PDL, reflecting its location on Ponta Delgada, on of the principal cities of the Azores.
Below you can find a list of help topics related to our transfer service with useful information and instructions.
Children safety - Children under 12 years old must travel on appropriate safety seats. You can request baby seats and booster seats in the children safety step during the booking process.
Passengers with disability - To fit properly in our vehicles we can only transport personal wheelchairs with folding / collapsible frames. Passengers with disabilities or reduced mobility must be capable of boarding the vehicle independently or with the assistance of those in their party or the driver.
Payment options - Our vehicles are not equipped with devices capable of processing credit cards, drivers are only able to accept cash - euros only. If you wish to pay with credit card, please, do it online in advance during the booking process.
Insurance and Guarantees - We meet all the mandatory insurance legislation. We are a fully licensed private transportation company, authorized by the portuguese board of tourism with the licence RNAVT 5903.
We are not responsible for delays before or during the transportation service caused by external reasons such as abnormal weather and traffic conditions.
Airport Transfers - After you leave the luggage collecting area at the airport, the driver will be waiting at the arrivals hall holding a sign with the lead passenger name.
Transfers from Your Accommodation - The driver will be at your hotel / resort reception or private villa door at the specified pickup time.
Flights delays - No need to worry. We always check your flight status directly with the airport control and wait until your arrival - no extra charge.